Gas fireplaces, in addition to adding comfort and warmth to any home, can also be an impressive architectural addition with unlimited design possibilities.
Ortal gas fireplaces combines classic beauty with innovative technology to turn any fireplace into a modern masterpiece. With a special design, these fireplaces can also be used as an indoor / outdoor fireplace that doubles its functionality and expands its impact inside and out.
With over 150 design models, we give you the flexibility to design a great fireplace in any project, whether in a home or space, with offices, an office, a winery, etc.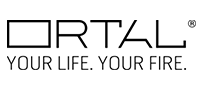 Ortal, founded in 1986, has gained global recognition for its extensive selection of modern gas fireplaces, produced with close attention to detail, finishing and quality. Its products combine traditional and modern design with technological innovations that make them eco-friendly with high heating efficiency ratings.