It is a compact solar system for hot water production through direct heating. Thanks to its elegant design and small footprint, this integrated system is an ideal choice that combines high quality, aesthetics and energy savings.
VITA SOLAR is recommended for geographical areas with a high annual solar radiation index. A truly "plug and play" system designed to be installed in series to allow you to increase the volume of the CNS while maintaining the efficiency of the entire solar system.
Storage capacity: 200L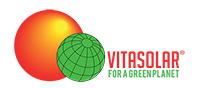 Vita Cyprus Ltd is a strong professional organization with solid values towards their clients and the environment. The vision of VitaSolar is to design and build efficient long lasting, compact and aesthetically appealing water heating systems optimazing the use of green technologies.