To ensure maximum well-being in any space, our company offers one of Cyprus' biggest range of air handling units for the ventilation of fresh air and for the control of hygrometric conditions during the summer.
There are several models available to suit your specific needs and applications. Heat recovery mechanical ventilation units are designed to manage forced air exchange in residential buildings. The dehumidifiers, which are designed to be combined with radiant systems, ensure comfort in the rooms, eliminating the risk of condensation in the summer. Comfort Units, designed specifically for home and commercial applications, provide complete ventilation and ensure health and comfort during each season.
The RDZ air management solutions Rionello offers include:
Controlled mechanical ventilation systems with heat recovery

Air dehumidification units

Uninstall dehumidifier units

Dehumidification ventilation units

ModulAir air distribution system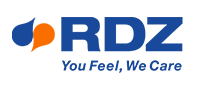 RDZ is a leading company in Italy on the heating and cooling market of radiant systems since 1978. RDZ's daily task is to improve indoor comfort in residential, commercial and industrial buildings, both for new constructions and for renovation projects.