Our LAVAKAMIN energy efficient fireplaces are designed to meet the needs of our customers, to operate with more reliability, efficiency and performance, always in combination with high aesthetic design.
With the sole purpose of quality:
We import cast iron fireplaces, with built-in fans for circulating hot air.
Built-in air curtain system over the glass to protect against burns anyone who touches the glass, especially young children.
Ability to select models in a straight line models, angular two-sided models, three-sided models, see-through models and oval models.
In addition to energy fireplaces, there are also energy cassettes and a range of high-performance steel energy wood stoves, again from Lavakamin.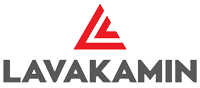 Lavakamin operates in the production of innovative energy heating systems. Products are designed to meet the needs of the customers, to function with more reliability and a higher degree of effectiveness, combined with high aesthetics design. With quality as sole aim, they import exclusively selected raw materials for all products in order to meet the European standards. Lavakamin continuously develop its production methods to satisfy all your needs and to offer you new and innovative technologies.